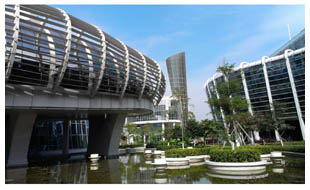 Riton Biomaterial Co., Ltd. is a China-based manufacturer that specializes in the development, production, and marketing of orthodontic biomaterials and other related medical equipment. Our target market is constantly expanding, due to the increasing popularity of invisible lingual orthodontic technology. We offer the customized lingual bracket system in specifications such as eBrace Visual and eBrace second generation. The eLock customized self-ligating lingual bracket system is also available.
As a hi-tech enterprise, we specialize in customized brackets and arch wires. These components are crafted with technologies such as CAD (Computer Aided Design), CAM (Computer Aided Manufacturing), SLM (Selective Laser Melting), and DLP (Digital Light Projecting). Additionally, we can provide orthodontists with supporting tools for accessories and lingual bracket systems. Clinical guidance and training courses are also available. Widely regarded as pioneers in the field, our company has published numerous articles in industry-related technical journals.
The critically acclaimed eBrace customized lingual bracket system was first developed in the December of 2008. Nine months later, it was readied for clinical trial. As a newly developed state-of-the-art correctional system, all associated technologies are patent-pending. This has resulted in 4 PCT and 15 national invention patent applications, of which 6 has been approved. The revolutionary eBrace system is efficient, convenient, and invisible. Its effectiveness is affirmed by industry experts.
Our company has cooperated extensively with famous Chinese institutions such as hospitals and universities. We have collaborated on joint projects with the Macau society of Orthodontics, West China School of Stomatology, Peking University Department of Stomatology, South China University of Technology, the First Clinical Medical College of Jinan University, and the Ninth People's Hospital affiliated with the Shanghai Jiaotong University School of Medicine. Through these continuous development efforts, we have brought our CAD, CAM, and RPM technologies to nationally advanced levels.
Riton Biomaterial has a world-class R&D team that is devoted to product innovation and enhancement. Our professional staff also includes orthodontic specialists who are experienced in clinical tech-support. Since 2010, we have cooperated with industry experts from famous Chinese universities and internationally renowned orthodontic societies. Our eBrace product designs, clinical trials, and training courses are heavily influenced by their invaluable contribution.